La Ferme Laurens - Bed and Breakfast - Spa
Take the key to the fields for a stay at the gates of Lourdes...
Listening to their guests, Daniel and his family welcome you in all seasons. Here, conviviality rhymes with availability because it is also necessary to look after the family farm, containing Gascony cows and Blondes d'Aquitaine.And because he enjoys welcoming you and sharing a certain idea of hospitality, the table has gradually been enriched with recipes and products from the Farm, developed according to family recipes passed down from generation to generation of farmers.
Home-made cabbage soup, blanquette of veal, beef andbéarn wine casseroleslowly simmered, to taste or to take away. According to the season, farmhouse charcuterie, 2-year aged ham, grilled or roasted meat, will make up the meal.Taste the trio of grilled meats!
Our 5 bedrooms are spread over two levels in the old barn:
On the ground floor: Room # 7"l'Écurie" - 1 to 2 people: 1 bed 140cm - direct access to the garden - bathroom, shower, WC. Accessible and equipped for people with reduced mobility.
Upstairs:
Room #1 "le Fenil" –1 to 2 people.: 1 bed 160cm- reading corner - bathroom, shower, WC.
Room #2 "le Poulailler" - 1 to 2 people.: 1 bed 140cm et 1 bed 90cm - bathroom, shower, WC.
Room #3 "l'Étable" - 1 to 4 people.: 1 bed 140cm, 1 bed 90cmwith 1 pull-out bed - shower room, shower, WC.
Room #4 "le Pigeonnier" - 1 to 2 people.: bed 180cm (2 90cm beds) - bathroom, shower, WC.
The great common room is the meeting place for breakfast and an aperitif accompanied by cold meats from the Farm.Dinner is eaten in the main house. This can be served in thecourtyard in the summer.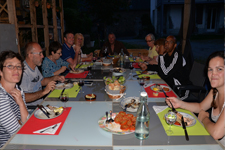 The evening meal marked "Terroir" will delight more than one foodie.On site we suggest that you discover our dishes around you.Packed for traveling, it's a bit of our Pyrenees that you will take in your luggage ...
In the morning you will have a substantial breakfast with homemade jams, pies and country bread, with coffee, tea or chocolate.If necessary, we will provide you with a picnic to enjoy during your getaways. To be reserved the day before.
Want to relax after a busy day or enjoy the calm of the garden?
Treat yourself to a spa in the barn that faces the garden. Lounging in the warm waters, or chatting for a relaxing break ... A real treat just for you or to share!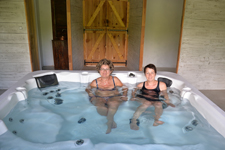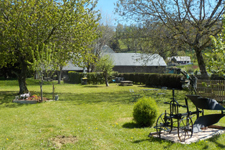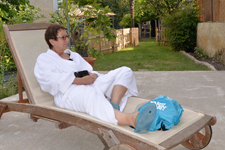 Bucolic, the small private garden area to lie down for a nap or simply enjoy the quiet of the countryside.
Rates and Conditions of use of the Spa:
Optional
€ 15 per person for 1 hour (including shower products and flip-flops).
Mandatory shower
Maximum Users: 6
Children under the responsibility of parents
Open all year round from 5 p.m.
Our Plus
A countryside spirit, comfortable rooms, and a "Terroir" table.
The childhood village of Bernadette with the sheep pen and her nanny's house.
Hiking trails for everyone from the Farm.
You will love the fireplace, the library areawidely documented on the Pyrenean peasantry,IGN maps and hiking guidebooks…
| | | | | |
| --- | --- | --- | --- | --- |
| RATES 2020 | 1 Person | 2 Persons | 3 Persons | 4 Persons |
| Room n°1 "le Fenil" | 57€ to 67€ | 60€ to 74€ | --- | --- |
| Room n°2 "le Poulailler" | 55€ to 64€ | 58€ to 68€ | 65€ to 76€ | --- |
| Room n°3 "l'Étable" | 55€ to 64€ | 58€ to 68€ | 65€ to 76€ | 68€ to 79€ |
| Room n°4 "le Pigeonnier" | 57€ to 67€ | 60€ to 74€ | --- | --- |
| Room n°6 "l'Écurie" | 57€ to 67€ | 60€ to 74€ | --- | --- |
Our rates include breakfast.
Farm meal:19 € / person: includes appetizer dinner,products from the farm, main course and dessert.
Meal tray to eat in or takeaway 10 €/person to reserve the day before at the latest.